UC Berkeley "Cal" Campus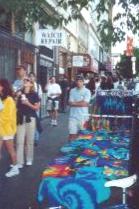 Telegraph Avenue Shopping
Take the BART trains under the Bay to Berkeley (or drive over the Bay Bridge about 15 miles) and enjoy a great college town. Similar to Haight Street atmosphere with a collegiate tone thrown in. Great book stores, music, clothing, ethnic restaurants. On weekends, great original arts & crafts fills the streets with street vendors. Head to Telegraph @ Durant, Berkeley or take the BART "Richmond" train to "Berkeley" station.
UC Berkeley "Cal" Campus Tower
Some of my favorite things about Berkeley are the historic People's Park, which is a combination now of student sports and homeless encampment. The park has been the site of years of vicious political battles and is a ready (be discrete!) source of drugs (if you so choose). In fact, Berkeley has many smoke shops and is a very "kind" city if you know what I mean...
Cal Fans Rush Field after Whomping UCLA
Berkeley's record stores have great well organized music at discount prices. Amoeba and Rasputin are some of the Bay Area's best, located right on Telegraph. A wealth of vintage or used clothing is available on the Ave, as is X-Large clothes as worn by the Beastie Boys & their fans. Maybe the best thing about the Ave is the wealth of street vendors selling tie dies, t-shirts, art, chach-ka's, political literature, and just interesting people. There are also some great ethnic restaurants including Chinese, Indian, and Mexican -- but best of all, everything in Berkeley is made for a student budget. So save, save, save....
M.R. writes about Berkeley's flavor on Telegraph as "I lived in a van there for a while.. tricked into the allure of Berkeley as every weird kids dream come true.. What I found was extremely dirty place, now I'm not saying I didn't have the time of my life.. but tourists should be warned of places like Telegraph street.. where the kids stand, sit, and lay.. almost side by side begging EVERYONE for money or beer...
You should warn people who dont want to be besieged by tons of smelly punkers! however if they are looking for a drinking town with tons of crazy shit... then they should love it!"
Update: Try out Saul's restaurant for great New York style deli. We enjoyed matzoh ball soup; reubens; and latkes (plus a bloody "Maury"). Saul's is at 1475 Shattuck Avenue 510-848-3354. Great NY deli food, but the service was mediocre to poor.
Davis, California / University - Stopping Point to Reno