San Francisco Weather in May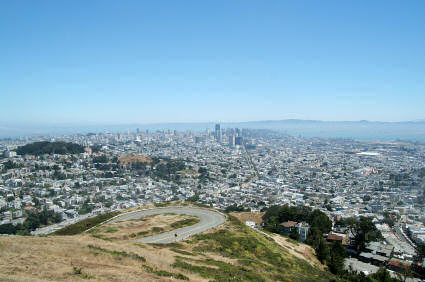 The end of May marks the beginning of summer in most parts of the United States. As far as the weather goes, that's not necessarily true in San Francisco. May is a tricky month when some days may be windy and cold and others sunny and humid. When you pack for a May San Francisco trip, you want to embrace what the locals do all year round: plan to wear layers!
One thing you need to understand about the weather in San Francisco is that the temperatures don't vary a lot from day to day but the way those temperatures feel can vary widely. If you look at our San Francisco Weather Averages table you'll see that the actual temperature in the city almost always stays between 45 and 70 degrees throughout the year. However, there are days when it can feel bitterly cold because of the way that the wind comes off of the ocean, the fog hits your skin and the shade covers your path. Luckily those days are few and far between in May so although it may not quite feel like summer in San Francisco, it will most likely feel like a brisk spring day during your May visit.
The average low temperature in May in San Francisco is about 51 degrees. In the shade it can feel a bit chillier so you will want to wear a windbreaker or cardigan and bring a scarf. The average high temperature is about 64. In direct sunlight in the city's warmest neighborhoods (like The Mission) it can feel warmer so make sure that you wear a T-shirt or tank top under that windbreaker so you can layer down as needed during the warmest moments of the day. The one thing that can't be stressed enough is that the way the temperature feels can change quickly from hour to hour and even block to block so you don't want to leave your hotel room without some type of jacket no matter how comfortable it feels outside as you walk out the door.
| | | | |
| --- | --- | --- | --- |
| Month | Avg High Temp | Avg Low Temp | Avg Rain (inches) |
| May | 64 | 51 | 1 |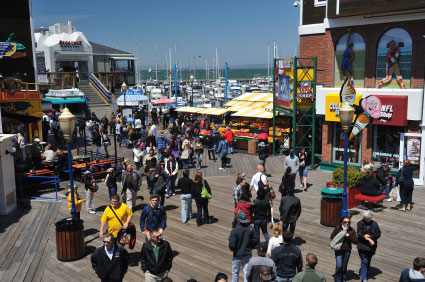 It is highly unlikely that you will encounter any rain in San Francisco in May. Every once in awhile there may be a partial rainy day but it should be a light rain. You can always pick up a cheap umbrella from any small store if that happens and go on about your trip. You may even be able to just duck into a restaurant or movie theater for a couple of hours until the rain passes. It's worth noting that May in 2011 was an unusually rainy month that bucked the typical trends but the same is not anticipated for 2012.
You will definitely want to plan on spending plenty of time outside in San Francisco in May thanks to the number of outdoor festivals and events that dot the calendar during this month. The month kicks off with a big celebration for Cinco de Mayo, which happens at Dolores Park in the Mission, a spot with a great view and typically the warmest weather in the city. It continues with a mid-month adventure known as Bay to Breakers, a citywide race that has been going on for more than one hundred years and is known for its massive crowds of costumed carousers. Since the race goes through a number of the city's microclimates the weather can't be predicted and those layers will really come in handy. At the end of the month are the Memorial Day celebrations, including large events held right off of the bay near Golden Gate Bridge where it is usually smart to have a windbreaker.
Speaking of AT&T Park, May is a great time of year to catch the San Francisco Giants in action at this beautiful bayside ballpark. It is always fun to watch this team that won the World Series in 2010. You should know that night games do tend to get chilly thanks to the wind coming off of the bay. If you can get tickets to an afternoon game in May then you'll really enjoy the experience!
May is a terrific month to visit San Francisco. It probably won't rain. The changes in temperature can be dealt with simply by wearing layers. And there are plenty of fun events to keep you entertained!
By: Kathryn Vercillo, Copyright sfTravel LLC