San Francisco- Transportation Guide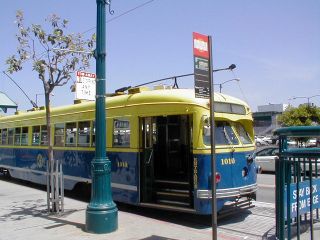 One reader suggests, "Our best advice; don't use car rentals! Absolutely unnecessary and a great way to avoid stressfull traffic... We walked everywhere and bought a three day muni bus pass that was well worth the $10. Parking and navigating would have made us miserable, the public transit system is great (buy a muni map $2)."
You can easily save both time and money by using a shared van shuttle from San Francisco SFO airport with our detailed info on services and tips to use this convenient airport shuttle service. Sharing a ride from San Francisco's airport is also a great way to help the environment by cutting cars on the road. Airport shuttle vans are available to Marin County, San Francisco, the East Bay (Walnut Creek, Oakland), and the South Bay (San Jose).
Airport towncars can cost about $75 for a group of up to 4...