Murals and Art of Coit Tower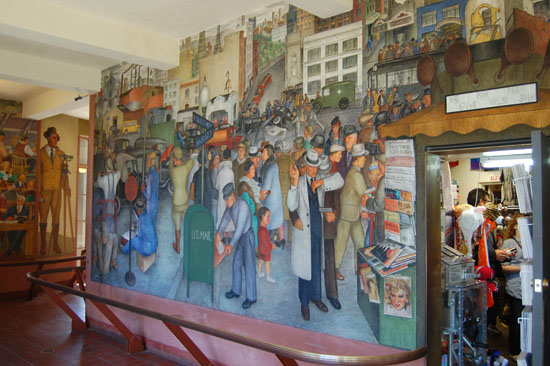 Coit Tower rises high on Telegraph Hill
As you venture through the winding streets of San Francisco, you may happen upon the iconic Coit Tower that has been a part of the city's landscape for decades. it stands tall at roughly 2200 feet and is made of simple, sleek concrete in a cylinder-like shape.
The history behind Coit Tower paintings
However, the real hidden gems are the murals inside, which represent a massive collaboration of many different artists and their assistant that worked together on the project. Each of the large paintings can be seen on the first floor of the tower, and are currently protected by the Public Works Art Project.
When these paintings were first unveiled to the public in 1934, there was talk that they might be too controversial, due to their themes of banned literature, crime problems and liberal, political viewpoints. They were allowed to be displayed, though, and now are a wonderful window into the past for future generations to admire.
While all the artwork is impressive, there are several that caused the most stir back in the day and still have very powerful undertones. The best way to experience all the tower has to offer is by walking in a clockwise direction through the circular gallery to take a peek at each painting.
A rundown of Coit Tower's beautiful murals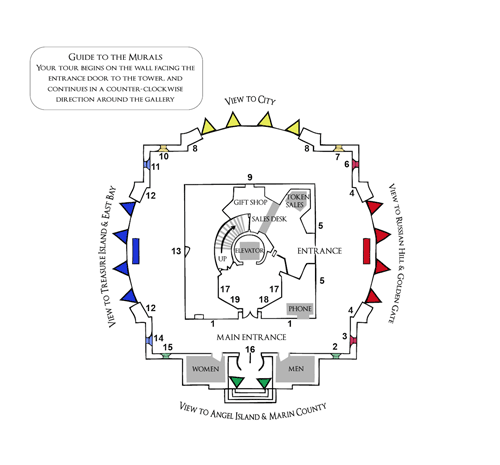 Animal Force and Machine Force - At first glance the mural cascades over the first floor doorway and has a focal point of eyes peering through clouds. Painter Ray Boynton and his assistant created images on either side that show an evolvement into animal dependency and the age of the industrial changes. Critics say the artists may have favored old tradition as seen in his colors and layout.
California Industrial Scenes - Changing gears, you can next see this 24-foot mural that has a darker message. Made by John Langley Howard and his team, there are images baring large groups of unemployed people as they organize to try to improve their situations on whole. Affluent onlookers watch the action unfold as if it were a novelty and for their amusement.
Railroad and Shipping - Locomotives used to be the life force throughout the west, until lack of jobs and funding slowed down production. This painting by William Hesthal depicts a rail yard near a wharf overgrown with wild vegetation from disuse.
Surveyor - A hard worker stand tall and symbolizes the ability to work together towards success in this painting. Clifford Wight drew as the prototype but was not permitted to finish it because of it's controversial nature.
Steelworker - Also done by Clifford Wight, this similar painting mimics the style and stance of "Surveyor" and is surrounded by empowering quotes.
Industries of California - They people work with their hands is shown through this painting, actualized by Ralph Stackpole. Each worker, with determined face, is doing their job in packing, canning or metal casting.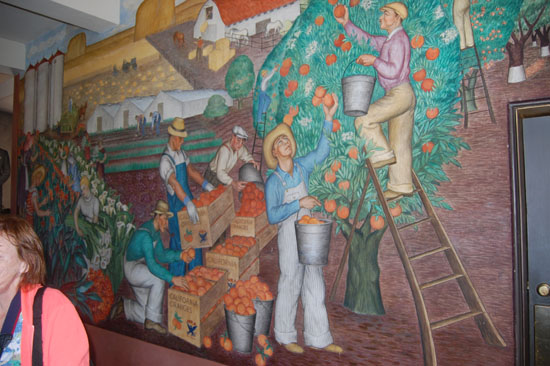 Newsgathering - This is another mural that goes around part of the tower, beginning and ending around a window. Guests will see a timeline of historically hardworking journalists typing, interviewing and carrying out daily tasks down to the paper being delivered. The piece was made by a female artist, Suzanne Scheuer.
Library - Created by Bernard Zakeim and other collaborators, this is one of the most recognizable murals in the tower.. On this 10-foot by 10-foot masterpiece, many people are crowded around columns of books and are reading various novels and newspapers. What made this "dubious" in the 1903s were the books themselves in hand are works by Hitler, social critic Kenneth Rexroth and rumored homosexual Oscar Wilde.
Stockbroker - This sad scene shows a weary businessman after bad news has befallen him. Painted by Mallette Dean, it's interwoven with another mural called "Scientist,", which includes a man and his observatory.
City Life - A few paintings down from "Library," this boasts a feel of organized chaos. The panoramic scene depicts the busy lives of city dwellers and how they can sometimes get wrapped up in moments without seeing what is in front of them. No one is noticing the traffic accident and instead are concerning themselves with their jobs and commute.
Banking and Law - George Harris may have hoped art fans would take a close look at the titles of books in this mural, as they give an amusing yet insightful commentary on the time's economic environment. These books are within a scene that shows lawyers and bankers in the middle of the daily grind.
Department Store - Much of daily life in the 1930s revolved around errands and meeting with people on the streets. Artist Freddie Vidar painted a fresco around a window to show workers and families visiting various shops for groceries and supplies.
Farmer and Cowboy - Along the lines of the other murals presented various trades, this large figures are equipped with their necessary working tools and stand proud as massive representations for their industries.
California - The state is rich with natural exports that are seen being harvested in this mural, created by Maxine Albro. While the bright and sunny scene is stunning, there are undertones of workers feeling oppressed by regulatory organizations.
Meat Industry - On a similar theme, this painting by Roy Bertrand takes the viewer through the meat packing process, common in California throughout the 1930s.
Power - The main message of all the paintings is portrayed here, through a large fist representing social revolution, created by artist Fredrick Olmsted.
Bay Area Hills - As one of the few oil paintings this scene uses upfront imagery to showcase the beauty of San Francisco and its surroundings. It was completed by Rinaldo Cuneo.
Boy Scene - Jose Moya del Pino created "Boy Scene" so viewers could see an artist's take on the vistas from Telegraph Hill, overlooking the bay. It's simplicity and bright colors draw the admirer in and transport them into the sunny and calm landscape.
San Francisco Bay - Painter Otis Oldfield produced this massive oil painting of the landscape around Telegraph Hill as well, highlighting the water full of ferries and marine traffic.
Overall, there are a couple dozen works to see along the spiral staircase, most of which are done with oils and in Fresco-style. With all it's fascinating history and grandeur, a visit to the Coit Tower can be an interesting integral part of any trip to San Francisco.
By Eileen Cotter, Copyright SFTravel LLC