Moss Beach Distillery
Haunted Coast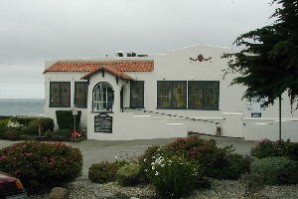 The charming village of Half Moon Bay is located about 45 minutes south of San Francisco on scenic highway one. A wealth of romantic bed and breakfasts are located in this coastal town. There is also miles of secluded (if cold) beaches, golf, coastal hiking, and horseback riding.
Perhaps the most famous place to see near Half Moon Bay is the historic Moss Beach Distillery. I visited this weekend (February 19, 1996) and had a great time -- this isn't some paid endorsement. The Distillery is a romantic restaurant with beautiful views. There is an indoor/outdoor bar and a restaurant with entrees from $15-$20. The area is very relaxing and the restaurant offers blankets if you want to sit outside on cool days.
The most interesting thing about the distillery is that it may be HAUNTED! Featured on Unsolved Mysteries, one of the lovers having an affair were killed in an auto accident. Her ghost, The Blue Lady, and another ghost -- the second lover who committed suicide are said to haunt the restaurant.
Some of the evidence ( you be the judge, I'm not a great believer) include objects moving, ghost sightings, visits to seances, and many other strange stories.
While you don't need to believe this stuff, Half Moon Bay and Moss Beach Distillery are a great getaway from the city's hustle and bustle. Leave about a half day to truly enjoy this trip. The drive is beautiful, even though the highway, aptly named "Devil's Slide" is slowly falling into the ocean down a cliff. Take highway 101-S to 280-S to Highway 1 Pacifica. Take highway 1 South to Moss Beach about 12 miles.
Moss Beach Distillery * Beach Way and Ocean Boulevard * Moss Beach, CA *
650-728-5595
An North Carolina couple writes, "This place should be a must for anyone visiting the bay area it was great. Our server told us of a small park about 200 yards from the restaurant whch has great views and stairs down to the beach, which had seals and a beautiful sunset. We went to the park to catch a sunset because the view from the distillery was slightly blocked by a house just behind the restaurant."