Best Napa Valley Winery Tours
Napa Vineyard
We've toured the wineries of Napa, California to give you reviews and recommendations on the best ones. With the time and hassle to visit Napa's world famous wine country -- visit the best wineries -- not just the tourist traps. Consider a San Francisco limousine rental that can take you straight to the Napa wineries in comfort and safety. Here are some of our recent visits and findings...
The Napa Valley Wine train is a relatively recent innovation to the Napa valley. Rather than drive and visit various wineries -- the Napa Valley Wine train offers a vintage railroad experience combined with food and wines. The only catch is -- you can't get off the train. The train travels along highway
29 (the main winery road) and serves a basic variety of wines from the region. You can view the area from the comfort of a rail coach and not worry about designated drivers (the train is your driver!) until you get off the train. We tried out the train's nighttime voyage. The nighttime version of the Napa Valley Wine Train may not maximize the fun that a wine train can offer. At night - it's tough to see anything -- you could be almost anywhere. That said -- the food was good quality -- the service was good -- and the experience was unique. However, the price for dinner makes you wonder whether a top-end Napa restaurant might be a better use of your money. On certain weekends, the Napa Valley Wine Train offers a children's car where your children can enjoy dinner and movies while you have a romantic evening on the train. There is usually no charge for children (only the parents pay). We'd recommend the daytime wine trains if you enjoy vintage railroads. However, the night version did not give much (any) views of the wine country. Keep in mind -- the wine train offers no opportunity to choose wineries or wine -- but is an enjoyable way to spend the day.
Rombauer is a great smaller winery with a no-nonsense (and no cost) tasting room. This tucked away winery is high on a hill above Silverado Trail. No signs - no balloons - just friendly people and great wine. We tasted excellent Merlots, Chardonnays, and Cabernets and invested in some Zinfadel to go (the ultimate compliment). The hillside winery features metal art, picnic areas, walking trails, and great views of the valley. The staff of this winery was particularly pleasant, friendly, and helpful. No tours - just wine.
Rutherford Hill is a larger winery featuring cave tours. The active tasting room has a $15 to $30 charge - depending on the type of wine. The tasting hosts were friendly and talkative and poured a good glass of wine. We enjoyed the Cabernets and Merlots at this winery. The hourly cave tours are $25, which include a round of tasting. The exterior of the winery includes a number of shady picnic areas in groves of trees and a large shaded courtyard. With typical Napa temperatures - this is one comfortable place to visit. Recommended.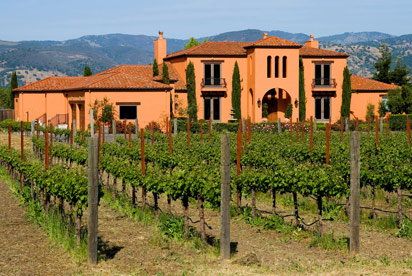 Limousines are great for Napa / Sonoma Valley tours...
A nice find along Silverado Trail, Clos du Val is a friendly and helpful winery. With tastings of high quality wine for $5 (refundable if you buy a bottle), the hosts at Clos du Vos were a joy to visit. We were even offered vintages (top secret) from the mid 1990's). Clos du Val is an upper shelf winery with quality wines focused on big reds such as Cabernets and Pinots. We paid this winery the ultimate compliment by investing in some of their wine. A good choice for friendly service and quality wine. This winery offers 25% off purchases for joining their quarterly wine shipments to your home.
We were eager to try this high quality and high priced winery's tasting but were quickly disappointed. Unfortunately, when we arrived there -- we found the service to be haughty, unfriendly, and unhelpful. This is the only winery we would specifically not recommend to visitors. With only two other people in the tasting room, we were ignored for over ten minutes before even being greeted or acknowledged (11am February 19, 2005). With $10 for a basic tasting and $30 for a deluxe tasting -- this winery is working hard to filter out typical Napa Country visitors. The wines were tasty and of good quality -- but we can suggest 25 other wineries in this area where we can be treated better and taste (and buy) better quality wine. There is no tour and other than a small tasting room -- the facility is off limits to visitors. Not recommended.
Dean and Deluca Grocery and Cafe
A great addition to the Napa Valley area -- this grocery is the perfect place to stock up on gourmet delicacies or more likely -- get your lunch. Filled with super high-end groceries and wines, Dean and Deluca is a great part of New York City transplanted to California. This grocery / cafe also offers a coffee bar and is conveniently located within walking distance of the enjoyable V. Sattui winery (see next review). Dean and Deluca offers sandwiches, salads, prepared foods, and gourmet groceries. There is a working winery in back of the store. Highly recommended.
V. Sattui is a larger winery focused on its tasting room. The winery offers a large deli and gourmet food shop (right across from Dean & Deluca Grocery) and large picnic grounds. V. Sattui wines are only sold at the winery and the active (free) tasting room has good prices on wine. A tasting and picnic at V. Sattui is a great part of any trip to the Napa wine country.
Plumpjack winery is a special winery from the Plumpjack organization of restaurants, nightclubs, and sports clothing. With a San Francisco feel, Plumpjack offers only a few tastings ($5 charge) of high-end premium wines. The stylish, smaller winery has cobblestone paths and decor reminicent of Plumpjack restaurants in San Francisco. The wine was excellent and the service was friendly and helpful. Plumpjack is a nice detour from the larger, busy wineries on Highway 29.
Romantic Napa Valley lodging information