Ultimate Guide to San Francisco's Ocean Beach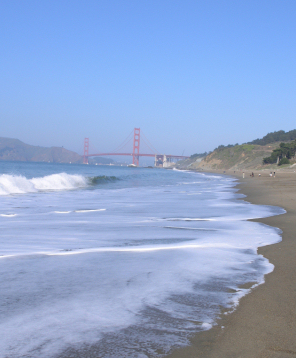 Ocean Beach is the most popular San Francisco city beach. This beautiful expanse of sand and surf offers opportunities for water adventures like kite surfing as well as many other attractions from historic landmarks to hiking hot spots. Ocean Beach stretches along approximately three and a half miles of the West Coast, just West of Golden Gate Park. The beach is part of the Golden Gate National Recreation Area and the National Park Service. It is located on The Great Highway which is part of the famous 49 Mile Scenic Drive. Be forewarned that this is not your typical sunny California beach; it's usually foggy and you should plan accordingly by wearing layers.
In The Water
The water of the Pacific Ocean is cold off of the coast of California. Typically the only people you'll see in the waves without a wetsuit are young children (who seem impervious to the chilly degrees) and the occasional surfer showing off his strengths. Nevertheless, there are plenty of activities that you can enjoy in the water, either with one of those wetsuits or ensconced in the comfort of watercraft.
Some of the most popular activities to enjoy in the water at Ocean Beach include:
Swimming. Just like at any other California beach you'll usually find a few people swimming here, especially on the rare hot day in late summer or early fall although the water is still cold even then. There are no lifeguards on duty so you swim at your own risk.
Surfing. Surfing seems to be more popular at Ocean Beach than swimming is and in fact is a popular spot for Bay Area surfing. Occasionally surf contests are held here although much of the city's surf action takes place further down the coast. Although surfing is popular here, it should be done only by experienced surfers; the riptides here are strong and again there are no lifeguards on duty.
Kite surfing and other water sports. For recreation it's also common to see kite surfers at Ocean Beach. You can sometimes find lessons that are offered here. This is true of other popular water sports as well. Stand-up paddling is an example.
On The Sand
Because of the chilly temperatures of the water it's common to see far more people on the sand than in the waves themselves. You can find a lot of typical beach activities here including people watching, sunbathing on the rare sunny day, jogging along the coastline, building sandcastles and game playing including volleyball, Frisbee and kite flying.
Some other popular activities on the land at and near Ocean Beach include:
Bonfire Parties. There are fires allowed in fire rings on Ocean Beach. Sometimes there are bonfire parties hosted here as part of various events. Note that there are a lot of rules and regulations about fires here so you should be aware of those before you plan your own event.
Hiking. Ocean Beach is at one end of the popular Lands End Trail, a great place for hiking along the coast and also one of the most popular jogging trails in the city. Fun fact: when the tide is right you can sometimes see remnants from shipwrecks in the water below throughout the course of this hike.
Shipwreck searching. Believe it or not you can actually sometimes see shipwreck remnants on the beach itself. Look for them during low tide at the end of Ortega Street. Approximately twenty ships struck land here in the late nineteenth and early twentieth centuries and you can see part of the ship of King Philip here when the conditions are right.
Dog walking. Most of Ocean Beach allows off-leash walking of dogs and the entire beach is dog friendly.
Beach cleanups. This may not sound a lot of fun at first glance but it's a great way to give back to the community. Regular volunteer cleanup days are hosted once a month; drop-ins are welcome and it's a great chance to meet some good people in the community while spending a day on the beach.
Ocean Beach Attractions
There are several popular attractions, including historic attractions at Ocean Beach. They include:
Sutro Baths. These are beautiful historic ruins leftover from what was at one time a magnificent public bathhouse. They are free to visit and from here you can see a beautiful view of waves crashing against the rocks off of the coast.
Historic Cliff House Restaurant. The Cliff House is a bar and restaurant but also a historic landmark. It was rebuilt three times after various fires and you can learn all about the history of the place from the various informational papers and plaques located in and around the restaurant.
Camera Obscura. This is a fascinating and fun little attraction that only costs a few dollars to check out. It's basically a big camera that you can walk inside and see the view of the ocean around you in real time through the lens that you're standing within. Camera Obscura is located right behind The Cliff House restaurant on the Oceanside.
Annual Events at Ocean Beach
New Years Day Polar Bear Club. Every New Year's Day there are a group of people who all meet at the same time on the beach and run together into the freezing cold water to start the new year off right. It has been called "diving fearlessly into the New Year" and is also known as The Polar Bear Club. Join in or just join the throngs of people who go out to watch and film the event.
Bay To Breakers. This is an annual spring footrace that has also become an annual event populated with people who dress in crazy costumes and cheer along the route. The race ends at Ocean Beach where there are usually parties and pictures.
Pro-Am Beach Soccer. In late summer there's always an annual beach soccer event called the San Francisco Ocean Beach Classic.
Leap Sandcastle Contest. Each October crowds of people gather on Ocean Beach to see the amazing sandcastle creations that come about when architects and engineers pair up with local elementary school students. It's inspiring and fun!
In the Vicinity
Some of the most popular attractions that are located within walking distance of Ocean Beach include:
The Western End of Golden Gate Park. This includes the famous windmills and their gardens.
San Francisco Zoo. The city's zoo is located just East of the Southern side of Ocean Beach.
Beach Chalet Brewery and Park Chalet Café. This is a restaurant and a smaller café that is a popular choice for dining especially on the weekends when they have a brunch and buffet. There is grassy outdoor city and there is often live music here. The restaurant is on the second floor of a building; the bottom floor is the Golden Gate Park Visitor's Center, which is home to historic WPA murals from the 1930s (similar to those you can find at Coit Tower as well as Rincon Center).
Balboa Natural Area. This is a small park area that is located just southeast of the Cliff House restaurant. It used to be the home of the famous Playland at the Beach amusement park but is now just a small park with sand dunes.
Where to Stay
Ocean Beach can easily be reached by public transportation including the L and N MUNI trains and several city buses. This means that it can be reached within less than an hour from almost any hotel in the city. However, for those people who want to stay closer to the beach instead of near the heart of the city's downtown, some of the hotels in this area of San Francisco include Oceanview Hotel, Great Highway Inn, Stanyan Park Hotel, Red Victorian Bed and Breakfast and Ocean Beach Bed and Breakfast.
By Kathryn Vercillo, Copyright JL7 Ventures LLC