San Francisco Tours
Want a way to see all of San Francisco's coolest sights without hassling with finding parking; finding hidden attractions; or traffic? Try out bus shuttle tours that shows you all of the cool things in San Francisco in just one day. It's an action packed day getting you to all of the City's best sites without wearing out your legs!
On the San Francisco shuttle and bus tours - you don't want your shuttle driver to be the tour guide. You want a tour guide 100% devoted to your San Francisco five hour sightseeing tour and telling you everything you want to know about visiting San Francisco in just one incredible day. You need plenty of time to stop, walk around, and take photos at each stop on the San Francisco sightseeing tour. Recommended tour vendors in addition to our partners linked from this page:
The Magic Bus is a unique, psychedelic tour of San Francisco to remember the era of the 1960's by combining music, film, and a ride through the Haight, Chinatown, North Beach, and Golden Gate Park. This tour is truly unique and you move through history as the bus moves through San Francisco neighborhoods. It's a "magical mystery tour" worth checking out for approximately $40 per passenger, departing from the Union Square hotel area.
Dylan's Tours is a family-owned company from native San Franciscans offering 2-5 hour small bus / van tours combined with bicycle rentals. Tours include most San Francisco neighborhoods and out to Sausalito and Muir Woods on the longer tours. Prices range from $50-$65 per person with private tour options also available.
Extranomical Tours offers a full range of tours including out as far as Yosemite, Muir Woods / Sausalito, and boat tours on San Francisco Bay. They also offer long-distance tours to Los Angeles, and integrate options for biking in many of their tour options -- including Napa Valley wine country (yum!). It's surprising, but you can go all the way out-back to Yosemite, all in just one (action-packed) day.
Golden Gate Pedicabs are eco-friendly, human powered bicycle carts that can drive you all around the City and even avoid a lot of traffic. The pedicabs are particularly convenient back from Fisherman's Wharf to your hotel as the Muni streetcars are frequently over-filled.
San Francisco Shuttle Tours - Approximately 5 hours with Bay Cruise for $63 daily. Two day options available. (415-513-5400)
San Francisco Tours - City tour and Bay Cruise for $62 (415-899-0060)
All San Francisco Tours - Complimentary hotel pickup and return and onward to City Tour and Alcatraz ferry with Alcatraz on-island admission. $65 - $85 (702-233-1627)
City Guides - Detailed walking tours by passionate locals who love San Francisco. No charge, optional donations. Multiple tours of many interesting areas, check their website for the full schedule.
Taste of The City- Focused on culinary arts around San Francisco, the most popular tour is an 8 block tour of North Beach / Little Italy for $59 where you can learn about many types of foods. Passionate cooks from around San Francisco will share how they make some of the finest delicacies in the world for you to sample. Tours begin twice daily at 10am and 2pm.
Kung-Fu Hustle - A unique weekly cardio tour from San Francisco's premier Kung-Fu school in Chinatown. This is a walk-jog for 1.5 hours up from Chinatown to Coit Tower for $15 (just once per week on Sundays).
More San Francisco walking tours to check out!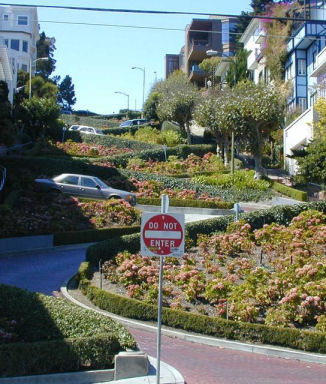 Most tours cost approximately $60. Now if you haven't seen enough the first day - many tours offer a double-header tour of San Francisco. On the second day, you'll could ride a cable car; go inside a historic Vistorian San Francisco home; and tour AT&T's Giants Baseball park.

Basically - tours can give you all the best sites of San Francisco in one very fun day. It's a recommended way at a reasonable price (you could pay the $60 easily in just parking fee's at the sites) to tour San Francisco's best attractions.