San Francisco Taxi Guide
San Francisco Taxis are a great alternative
San Francisco, California is one of America's favorite vacation spots. It is also one tough place to park a car. Making your way around the city can be especially challenging for visitors because of the steep hills and attractions scattered in every area. Instead of spending $50 or more per day on a rental car - and easily that much per day parking just at your hotel - a taxi is a great alternative for visitors and locals who want to make life a lot easier.
Estimated Airport Taxi Rates (typical and before tip / gratuity):
SFO San Francisco Airport to downtown San Francisco ~$45
SJC San Jose Airport to downtown San Jose ~$25
SJC San Jose Airport to downtown San Francisco ~$125
OAK Oakland Airport to downtown Oakland ~$25
OAK Oakland Airport to downtown San Francisco ~ $40
While there are dozens of taxi and hired car services in and around San Francisco, you will want to choose carefully. One thing is repeated by passengers of all ages, service is rarely speedy. In fact, most find that after calling for taxi service it takes about thirty minutes for that taxi to arrive. Certain companies are far quicker than others. If you call in advance of your planned departure, you won't be bothered by the wait. It is the people who call as they leave a popular restaurant who find themselves annoyed as they wait on the sidewalks. Your advanced planning can help avoid standing outside for lengthy periods.
San Francisco is a small big city. Seven miles by seven miles is not much compared to other major U.S. destinations. In fact, if you are visiting the city by the Bay you will in all likelihood be enjoying the sites and stimulus of the northern half, which includes the picture postcard sites, Chinatown and Haight-Ashbury. However, despite the small geography getting around San Francisco is not easy. Public transit consists of the notorious MUNI which every incoming mayor has atop of the campaign promises to improve. The underground goes up two streets and the buses are late and packed. Renting a car is not the worst idea, but it isn't easy when one way streets sneak up on you and as for parking, there is next to none. San Francisco is a great walking town but best for those who include a little cardiovascular routine in their daily lives back home. The hills of SF are both ubiquitous are murderous on the unsuspecting traveler. Nevertheless, like all cities with roads there is the option of the San Francisco taxi cab which British comedian Eddie Izzard commented, "To which there are five!"
San Francisco Taxis at the Top of Nob Hill
Taxi Companies:
Taxi service is one of the most convenient forms of transportation in San Francisco -- not luxurious by any means, but surprisingly low in cost for infrequent or visitor use. You simply call the dispatcher for a ride or wait in high traffic areas and attempt to flag a taxi down from the street. It's an easier task if you are in a high traffic area such as Fisherman's Wharf or Union Square, but it can be advisable to call in advance to avoid long wait times.
Regardless of what cab company you select, rates are set for all companies by the San Francisco Municipal Transportation Agency (SFMTA). These taxi rates are verified as of Summer 2009 :
$3.10 for the first 1/5 of a mile.
45 cents for every additional 1/5 of a mile.
45 cents per minute for wait times and traffic delays.
$2.00 airport surcharge
Passengers pay any bridge tolls.
Out of town trips: Taxi driver can collect in advance, except to SFO / OAK airports.
City of San Francisco Government Detailed Rules - Taxis or use the very accurate taxi fare calculator tool from TaxiFareFinder.
Taxis are popular from SFO airport.
For trips over 15 miles, taxi companies charge an additional 50 percent of the cab fare. For example, if your fare comes to $100, you will pay $150. You are also responsible for any bridge or highway tolls.
San Francisco law allows drivers to collect the fare in advance if you are traveling out of San Francisco to areas other than the San Francisco or Oakland airports.
San Francisco does not allow taxi companies to charge you an additional baggage fee, so no driver should attempt this. Also, drivers cannot refuse you if you plan to only go a short distance, such as a block or two. If there is a fare dispute, drivers legally have to take the passenger to the nearest police station so that police can help resolve the issue.
Desoto Cab Company: Once ranked one of the most efficient taxi companies by passengers, there have been problems with long delays or taxis that simply never show up. Those using taxi service to go to the airport find that the service offered by Desoto is generally problem free, so it is a great option for airport transfers. It's important to note that credit cards are only accepted on fares of $20 or more. (415-970-1300)

Green Cab: San Francisco visitors and residents all rave over Green Cab. The company is small and only has a handful of cabs available, but they are always on time and drivers are friendly. Asking for a clean cab is the best way to get a hybrid. 415-626-GREEN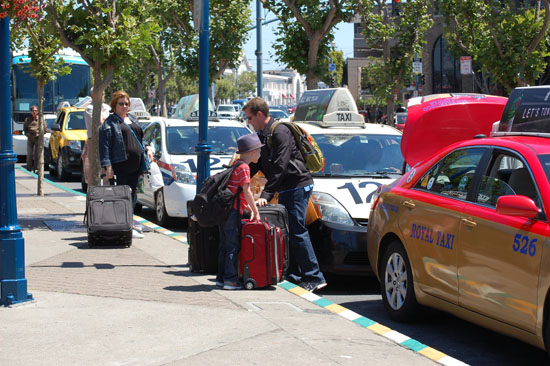 Calling a taxi in advance can avoid a wait.
Luxor Cabs: There have been a few complaints about rude drivers from former passengers; some drivers are definitely more courteous than others. If you travel from the airport to Downtown San Francisco, a typical fare is around $40. Luxor Cabs offers a full fleet of taxis, vans with wheelchair lifts and even hybrid taxis. 415-282-4141

Town Taxi: Few have had problems with Town Taxi's service, though complaints about derogatory comments made by drivers have been noted. These issues seem to be few and far between. 415-401-8900

Yellow Cab: Again, many passengers have complained about Yellow Cab service. Problems go beyond the drivers, who are generally professional and friendly, instead it is the dispatching that lacks. Busy signals or long waits for an actual dispatcher prove to be persistent problems. 415-333-3333
here are more companies out there; the list changes frequently. What are listed above are companies that people have agreed to share their experiences. The City of San Francisco offers a complete list, including contact information, with notes when a taxi company's business license has been revoked.
Taxis in San Francisco are easy to spot lined up outside the airport and large hotels, so if you are staying at one you are in luck. However, finding one driving on the street is not impossible but hailing one down that is unoccupied can be an exercise in futility. Plan ahead because getting into a cab is half the battle. The best thing you can do, and this always applies, is to know where you are and know where you are staying and get a sense of looking at what is in between. Street maps are pocket sized for your convenience and it's a good tool to have in SF. Why? Because many a taxi driver in San Francisco does not know their fair city that well. This is can be hard on the pocketbook. Those familiar with the streets of San Francisco find that cabs are not too fond of the shortest distance between two points standard of a straight line. The longer you are in the cab the more money they make. The more sober you are the better chance you have of paying less.
The taxi experience in San Francisco is also special because unless the cab driver actually owns the cab he or she is driving, they can take you on a roller coaster ride with no safety precautions. Ask any city driver and they will tell you the most dangerous person behind the wheel is a cab driver. Zooming up and down the hills can be hard on the crown and the butt. Put your belt on as soon as you get in because stop signs look like big green lights to these guys. Also, just to make it even more comfortable for you it is likely you will experience the fragrance Eau du Marlboro when you enter a cab. This is the case for owned or company cabs. Typically you won't have a driver smoking while you are in the cab but you know he is going to be puffing when you step out.
Towncars & Limousines:
Limousines and hired cars are luxurious and offer plenty of room to spread out. It goes without saying that often this option is more costly than others, but if privacy is a concern, you cannot beat hiring a car or limo.
AAA Bay Area Limousine: Former clients offer high praise to this long time limousine company. There are many hired car options ranging from town cars to land yachts or Hummer limos for larger groups. Prices are determined by the number of hours you reserve or the airport you need. AAA Bay Area Limousine does charge $15 for early or late pick ups (before 6:00 a.m. or after midnight). They also charge $15 if you request to be greeted in the baggage claim area. 415-850-7693
Shuttle van service is a nice alternate to a taxi. You share the van with others heading to the same airport or you can reserve the entire van to yourself. More spacious than a taxi, extra baggage is generally not a problem.
GOGO Charters specializes in group charter buses serving the San Francisco Bay Area. Hassle-free, courteous reservation specialists make it easy for you to rent a charter bus, shuttle, or minibus with ease. Comfortable charter buses have become super-popular for conventions, day trips, destination weddings, and school field trips. 415-462-2870

National Charter Bus San Francisco has become the #1 provider of charter bus rentals across California based on their new, comfy vehicles and great service from reservation to tour. See the views at every major (and a few secret) San Francisco attractions from the comfort of your bus of any size for your group. Your charter bus will take you wherever you want go at a moment's notice. 415-226-7853

American Airporter Shuttle opened for business in 1990 and has gained a solid reputation for having friendly drivers and immaculate vans. They offer airport transfers from area hotels, businesses or even your home. Rates start at $15 per person, and they offer family discounts. 415-202-0733

Bay Shuttle offers transportation to the area's major airports: Oakland International, San Francisco International and San Jose International. The vans are clean and incredibly comfortable. Look for special discounts at the company's Web site. Fares start at $17 per adult and $8 per child. Shuttle service is offered from 3:45 a.m. to midnight daily. 415-564-3400