Top Five Theaters in San Francisco
Orpheum Photo from BWChicago @ Flickr CC

San Francisco boasts some of the finest theater performances and historic theaters in the country. Whether you are looking for broadway musicals, drama, plays, or even opera - San Francisco's theaters can provide a stunning performance central to the downtown core and Union Square. We've compiled a list of our favorite theaters in San Francisco to help you plan your trip, buy tickets, and even find tickets for that sold-out show.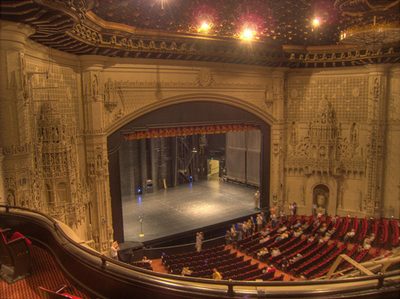 Orpheum Photo from BWChicago @ Flickr CC
Orpheum Theater - The Orpheum Theater in San Francisco is an elaborate Spanish cathedral brought to life with magnificent carved doors leading to the lobby. The dramatic 12th century Spanish palace is revealed as you enter the lobby. A beautiful balcony looks over the audience and on to rich-toned tapestries overhead. The full-bodied lions ringing the ceiling of the auditorium will demand your attention. Spanish folklore mythical figures surround as you move down the aisle. The ornate sun with twinkling stars illuminates your seat from above in the elaborate cathedral. The Orpheum was built in 1926 as a showcase for theatre magnate Alexander Pantages. The Orpheum has featured vaudeville, silent films, motion pictures, musical comedy and other entertainment at this official historic landmark of the City of San Francisco. 1192 Market Street - The intersection of Hyde, Market, and 8th Street. (415) 551-2000
Curran Theater - The Curran scene in San Francisco buzzes like Broadway with the crowd spilling out into the street and sidewalks. The Curran is more like a Broadway theatre than almost any other in the country. The New York scenes for "All About Eve" were even shot at the Curran. The details of your day will fade with the allure of understated elegance and the stunning crystal chandeliers. This amazing theatre is a vibrant example of San Francisco's rich architectural heritage. You can imagine from your seat a fleeting image of an animated Jazz Age audience awaiting the theatre's 1922 premiere performance. When the lights at the Curran theater dim, you will be mesmerized with what's behind the curtain at the Curran. 445 Geary Street between Taylor and Mason - (415) 551-2000
Golden Gate Theater - The Golden Gate Theater in San Francisco has welcomed theatergoers for over 80 years. You can imagine the theater patrons in formal attire lining around the block for the 1922 vaudeville opening. People would clamor to see the Marx Brothers and rush by to catch a glimpse of superstar Frank Sinatra entering the theater and Cinerama wide screen. As entertainment evolved, the grand theatre with its magnificent stage and enviable acoustics was fully renovated and then improved again to present live theater once again. 1 Taylor Street - (415) 551-2000
Beach Blanket Babylon is a San Francisco legend with locals and visitors alike.
Beach Blanket Babylon is the longest running musical revue in theatre history, is a zany musical spoof of pop culture with extravagant costumes and outrageously huge hats. Sold-out since 1974 and over 12,000 performances, the show is an internationally acclaimed San Francisco institution. Beach Blanket Babylon continually evolves in its hilarious parodies of current events and popular icons as todays headlines unfold.
A San Francisco actor comments, " I've seen this show three times and it keeps getting better every time I see it. A creative blend of song parodies, current event lampooning and outrageous costumes makes this an event not to be missed. In my opinion this is one of the best attractions SF has to offer. I've seen 40 musicals in the last 5 years and have never seen a show with so much talent and creativity. The singing, dancing and acting are on par with anything Broadway has to offer. From the brilliant mind of Steve Silver, this show will put a smile on your face that will last for years."
Check out this crazy, musical dress-up show poking fun at current events for about $25 - $130 (many tickets around $50) in North Beach. Club Fugazi - 415-421-4222, 678 Green St.
Movies and Imax Theaters in San Francisco