San Francisco's Favorite Boat Tours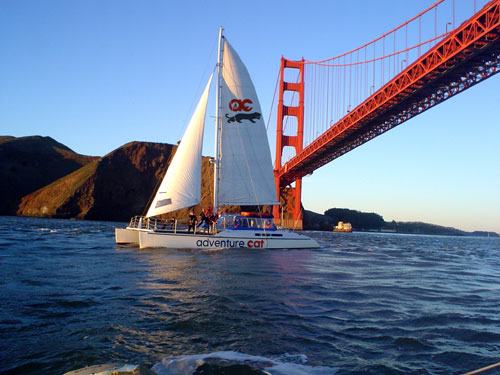 Amazing catamaran daily sailing from $40 per person.
Although there are dozens of attractions in San Francisco there are none that are nearly as popular as the ones in and around the San Francisco Bay. The Golden Gate Bridge is an iconic symbol that you simply can't fail to see when you visit the area. And how could you miss Alcatraz, the most famous prison attraction in the world? You have many options for seeing these things but there's nothing quite like seeing them up close while getting a boat tour of the bay. Not only do these tours allow you to see these attractions and learn about them but they also afford you perhaps the best scenic view of all – the view of San Francisco itself!
There are nearly as many bay tour boats as there are other attractions in the city. Choosing the right one for you is easier if you know a little bit about the best features of each of them. Read on to find out all about the five best bay boat tours in San Francisco.
The Popular Choice - Blue & Gold Fleet
Blue & Gold Fleet is a San Francisco ferry operator that also offers sightseeing tours in the bay. It has the area's largest fleet and is (according to its own website) the most environmentally-friendly option for a bay tour.
This tour operator offers both a 60-minute and a 90-minute tour. Both tours go under the Golden Gate Bridge and also circle Alcatraz Island. The major difference between the two is that the longer trip spends more time near Alcatraz sharing recorded stories of the famous prisoners who stayed there. Both trips provide the chance to see terrific views of the San Francisco city skyline. Ticket prices for the 60-minute tour range from $15.50 (for kids) to $23.50 (per adult). Ticket prices for the longer tour are an additional three dollars per ticket.
The tour boats from Blue & Gold fleet have a full-service snack bar that you can purchase food from on board. They offer additional amenities as well, including an on-board bathroom and a complimentary souvenir map available in nine different languages. The tours run year-round. Indoor and outdoor seating both available.
Pros: Year-round tours, environmentally-friendly boats, all ages allowed, option to choose between 60 and 90 minute tours, large fleet and frequent departure times makes getting a ticket easy, most affordable tours
Cons: Tour is audio recorded rather than personalized by an individual, may get booked up during peak visitor times
Personal Service - Adventure Cat Sailing
Sailing the bay on a catamaran sailboat is a San Francisco experience not to be missed. The Adventure Cat tours the San Francisco Bay in a huge sailboat from the Golden Gate bridge to the Bay Bridge. The sailboat also includes a backup motor for days when winds are slow.Our own tour on the Adventure Cat was truly amazing. Make sure to reserve ahead of your day, and you can have a great time on the water - make sure to check the weather first. You should bring warm clothes & always dress in layers -- it gets much cooler on the water with the winds. The Adventure Cat leaves right from Fisherman's Wharf Pier 39 shopping mall.
The smooth riding Adventure Cat catamaran sails from Pier 39's J-dock -- right at Fisherman's Wharf! The prices are: $40 for day cruises, kids 6-12 years $20; under 5 free. The cost is $55 for sunset cruise (all ages). All cruises are 1.5 hours. Beer/wine, sodas, cookies and chips are sold for around $2-$5.50 on the boat, and 2 drinks per person plus light appetizers are included free on the sunset cruises. The Cat sails three times a day, every day. Their motors are rarely needed-- wind power moves the Cat. The very stable catamaran goes under the Golden Gate Bridge and around Alcatraz island. Sun yourself on the catamaran's webbed deck. It's a very personal ride on a moderately sized boat. Reservations required -- but please share referral code "sftodo". Here's what past riders have to say:
Randy writes, "The catamaran ride on the Adventure Cat was a highlight of our trip. What a way to see San Francisco Bay! Put this FIRST on your list of things to do when in San Francisco..." "This is definitely one of the 5 experiences you have to do in San Francisco!" K.G.
Longest-Running Tour – Red & White
The Red & White boat tour is a family-run business that has been in business since the late nineteenth century. That makes it a great choice for people who want to support a small business with a long history. These boats go underneath the Golden Gate Bridge and around Alcatraz Island. Like Blue & Gold Fleet, Red & White offers both a 60-minute and a 90-minute Golden Gate Bridge Tour. The longer tour also goes to the Bay Bridge, providing sweeping views of the city's skyline. These boat tours depart from Fisherman's Wharf and leave as many as 17 times per day during the busy season. The 90-minute tour costs $24 for kids and $36 per adult; kids under 5 are free. The 60-minute tour is eight dollars cheaper per ticket.
In addition to these regular daytime tours, Red & White also offers evening tours. In the winter it's a twilight cruise and from spring through fall it's a sunset cruise. These two-hour evening tours come with a buffet and live music. This option costs $40 for kids and $58 for adults; kids under 5 are free.
Bonus: Red & White offers the only multilingual bay boat tour. The tour is conducted through headphone audio and that audio is available in 12 different languages. The 90-minute Golden Gate Bridge tour discusses not only the history of the area but also the geology and information about earthquake-proofing the city's architecture.
Pros: Several tours to choose from including two-hour evening tours, audio headphone tour is available in 12 languages, family-operated business open since 1892
Cons: Most expensive tour, tour is audio recorded rather than personalized by an individual
Romantic Choice – SF Bay Adventures
SF Bay Adventures offers sunset and after-dinner cruises in the Bay, providing a romantic option with a small tour operator. You can choose to buy tickets on a pre-planned tour (which usually happens on Friday and Saturday evenings). Alternatively, you can book your own sunset cruise for a group of 6-12 people. The tours travel around the Golden Gate Bridge and the areas of Sausalito and Tiburon. These tours are on sailboats, rather than ferries.
The Sunset Sail tour is a two-hour tour on a sailboat. For example, the Freda B sailboat is a fully restored replica of a historic mid-nineteenth century coastal schooner. The tour provides ample information include the history of the area and information about wildlife in the region. You are allowed to bring a picnic dinner on board; beverages can be purchased on the boat. This ride costs $55. The City Lights Sail tour is designed to be a two-hour after-dinner tour. Dessert is included in the $59 per person ticket price. You can purchase mulled wine or hot chocolate on board as well.
Note: SF Bay Adventures also does whale watching tours, shark diving tours, eco-tours and even offers boat rentals. If you're looking for something other than the usual bay boat tour then it might be worth seeing what they have to offer.
Pros: Very romantic, long (2 hour) tours, opportunity to tour on a sailboat, tour is narrated by an individual so it's very personalized
Cons: Limited schedule, expensive, skips Alcatraz, intended for adults only, chilly since it's a night ride
Local Option – San Francisco Bay Boat Cruises
San Francisco Bay Boat Cruises is a local family-owned small tour operator offering 90-minute rides that are intimate and personalized. If you're looking for a "mom and pop" option for touring the bay, this is a good choice. That doesn't mean it's low-class or anything like that, though. In fact, this is a high-class tour that offers the only opportunity to enjoy wine tasting on the bay! The boat leaves from Pier 39 and travels around the bay including to the Golden Gate Bridge.
This company was launched because the family wanted the chance to enjoy San Francisco's visitors, boating and California wines. The boat that is used for this tour is called The Neptune. It's a 1958 classic cabin top cruiser designed for leisure trips. The boat is essentially a floating wine tasting room where visitors get to enjoy a wine flight of local wines (both red and white). There are also complimentary light snacks and the option to purchase drinks from a full bar. Tickets start at $60 per person and must be purchased at least 72 hours in advance.
There are occasionally special tours offered, such as a Haunted Voyage around Halloween time.
Pros: Wine tasting and bay tour in one, supporting a "mom and pop" business, personalized tour hosted by people who know and love the area
Cons: Expensive tickets (but consider that you're getting a wine tasting, too), tickets must be purchased 72 hours in advance
Rocketboat – The Adventurer's Option
One of the newest options in the Bay Boat Tours scene is the Rocketboat. This is a speedboat that whizzes rapidly around the bay. It's not for the faint of heart but is ideal for adventurous folks looking for something a little bit more exciting than a leisurely cruise. Rocketboat is a 30-minute narrated tour providing interesting information about San Francisco. However, much of the focus is on the fun ride so you don't get as much information from this tour as from some of the other options.
Rocketboat takes off from Pier 39 and travels towards the Ferry Building. On a clear day, you will be able to see both the Golden Gate Bridge and Alcatraz but because the ride goes east these aren't the focal points of the trip. You do get a great view of the Bay Bridge, which the boat ride travels beneath. Plus it offers terrific photos of a unique view of the San Francisco skyline.
This is a seasonal tour that only runs from May – October. During that time the boat leaves hourly so you usually won't have any problems getting tickets. Tickets cost $21.50 for adults, $17.50 for seniors (65+) and juniors (age 12 – 18) and only $13.50 for kids under age 12. Note, however, that kids shorter than 40" are not allowed on this boat even with an adult.
Note: Rocketboat is a boat tour offered through Blue & Gold Fleet, which (as mentioned previously) offers additional sightseeing tours in the bay. It is possible to get discounts on packages for tickets to both tours.
Pros: Exciting, offers something different so it's not boring for locals taking their guests on a tour, unique view of San Francisco skyline, quick 30-minute trip, tour is narrated by an individual so it's very personalized
Cons: Less informative than the other tours, seasonal with limited dates of operation, children under 40" not allowed, limited view of Golden Gate Bridge, passengers may get wet, limited amenities (no snack bar, no indoor seating)
Or take the ferry
Finally, remember that an alternative to the bay boat tour is just to take a ride on the ferry. This is terrific transportation if you'd like to also spend some time in Sausalito or Oakland. The ferry won't provide you with as much information as the tours do but it can be a terrific way to see the major sights from the water.
Living large and got the skills to sail the Bay? You can rent a chartered sailboat right in San Francisco too.
By Kathryn Vercillo, Copyright sftodo LLC