Bay Cruises San Francisco
Blue and Gold Review
The Bay Cruise Sails San Francisco Bay
The Blue and Gold Fleet offers the chance to see the magnificent splendor of the San Francisco Bay up close. Tickets prices are currently $18 for adult, $10 for Child (5-11), and $14 for Juniors (12-18) and Seniors (62+). If you plan on visiting the city, and purchasing the popular San Francisco CityPass package, you should know that a ticket for the Bay Cruise is included. You should also consider a comprehensive (5 hour) tour that combines San Francisco sightseeing of most major sights with the Bay Cruise (usually $60 or less per person). You may also want to check out sailboat charters which are available as either per-person tickets or charters of entire (beautiful) sailboats and captain.
The CityPass was how I first learned of the Bay Cruise. At first, I didnít see the need for it, and didnít plan to use it. I wanted to write off the Bay Cruise as a tourist trap, especially since it is located at Fishermanís Wharf at Pier 39.After all, Pier 39 is so full of shops and restaurants that the average visitor must hold to his or her wallet tightly to avoid paying overly-high prices for food and needless souvenirs.
I guarantee that you will definitely become a stereotypical tourist if you take the Bay Cruise. Not because you will spend your money needlessly, but you will have to take as many pictures as possible. The Bay Cruise passes many breathtaking sites, and you could fill up eight rolls of film without even trying.When you go, make certain to bring your digital camera.I know I wished I had one that day.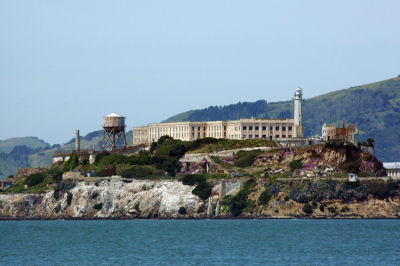 Alcatraz Island - San Francisco
You also should make some other plans beforehand: 1) Plan the time, because the Bay cruise leaves at regular intervals. 2)Plan for even more time at Fisherman's Wharf, because it is often rented out by large groups.
The Bay Cruise has a guided tour that is done by recording over the intercom. Unless theyíve done some adjustments since I visited, I had a hard time hearing the loudspeaker when I was outside on the deck of the ship. There was a place inside where you could sit and watch the sites through Plexiglas windows, but there were very few people in that room. In fact, hardly anyone was interested in listening to the tour. They were all trying their best to get as many good photos as possible.
San Francisco Bay - By: Nikoletta Chabay
The first site is a quick close-up of the World Famous Sea Lions. You can get closer to these guys than you can from the Pier 39 dock, and they donít seem to mind the presence of a boat. However, these guys are so shiftless I donít think they would mind the next big earthquake. If you wanted a good shot of one of these magnificent creatures, this is the place. The cruise then swings around Alcatraz Island. It does not stop on it, because the Blue and Gold Fleet have a separate trip specifically devoted to that.
Pier 39 Sea Lions
The icing on the cake is, of course, a trip underneath the Golden Gate Bridge. This is worth the price of the ticket and more. The sight of the majestic bridge before you, coupled with the wind in your hair, is quite honestly one of those moments that you will remember forever. When I was there, all I could think: ďI canít believe I almost didnít do thisĒ. I thank my wife for her pressure to get me on that Bay Cruise boat.
All this, plus an excellent view of the cityscape. From there, you can see other wonderful attractions like The Palace of Fine Arts and the Transamerica Pyramid. If youíre lucky, you can see it all with San Francisco fog oozing up from the mountains. You simply have to see this for yourself.
The Red & White fleet offers a similar bay cruise including headphone audio in eight different languages. The one hour cruise includes views of Alcatraz and going under the Golden Gate Bridge. The Red & White fleet offers 14 daily departures from Pier 43 1/2. You can call (415) 673-2900 for reservations.
By: Mark Rollins, Copyright SFTRAVEL LLC