Napa Winery in a Castle
Castello di Amorosa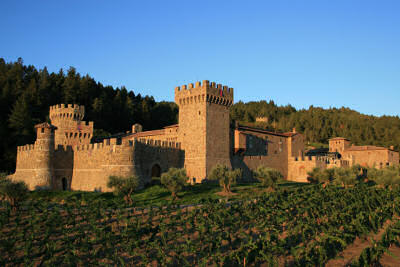 Views from a Winery...
Castello di Amorosa Authentic-styled, 12th century medieval Tuscan-style castle Winery; featuring hand-crafted Italian style wines. Construction took over fifteen years - opening first in April 2007.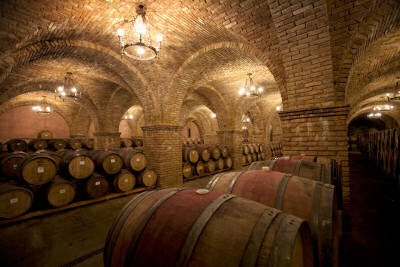 What a barrel room...
Medieval designs and construction methods were employed to create the 121,000 square foot Castle & winery. All ironwork hand-forged by Italian artisans over open flame. Over 170 containers of handmade antique bricks and tiles brought over from Europe. The castle features five defensive towers with battlements and hand-hewn Italian doors weighing over 1,000 pounds each. There are over 100 rooms on eight levels - both below and above ground. Great Hall with a coffered ceiling, featuring hand-painted frescoes inspired by Ambrogio Lorenzetti's "Buon Governo" (Good Government) in Siena, Italy.
Grand Barrel Room featuring 40 Roman cross-vaulted brick ceilings filled from italian handmade state-of-the-art triple-jacketed fermentation tanks. Additional authentic features include a Church, Drawbridge, Courtyard, Watch Tower, Torture Chamber, Loggia, Deep-Well, Secret Passage Ways, and Outdoor Oven.
We tried out the Il Brigante wine from 2002, and it was amazing. A deep, rich red yet very refreshing. We combined it with a steak and potatos dinner which was the perfect mix for our summer BBQ. The winery describes the wine in both terms of excellence, value, and uniqueness as a blended red wine. We bought it at the winery, but they will ship it out too..

4045 North Saint Helena Highway
Calistoga, CA 94515
Reservations: (707) 967-6272
Wine Country Lodging