Union Square - San Francisco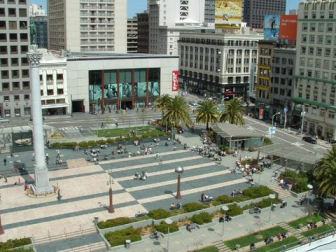 Union Square Plaza
Union Square is one of the most popular neighborhoods to stay in during a trip to San Francisco. It is centrally located near all of the major modes of public transportation, making it convenient for everyone. Visitors love the shopping, hustle & bustle, and beautiful historic buildings—all in convenient walking distance of the biggest hotels. Union Square is both a great starting point for a day in San Francisco and a fun place to shop, eat, and hang out. Some of the city's best theatres and art galleries are located here as are some top-notch restaurants, many terrific shopping opportunities and the chance to see some terrific historic architecture and stunning city views. So where do you begin?
History of Union Square
Built in 1847, Jasper O'Farrell, a civil engineer responsible for much of the design of San Francisco's city plan, set aside the area of Union Square to be used as a public plaza. Just before the Civil War, the park was used as a location for frequent demonstrations, which supported the Union troop, giving it its name Union Square. Prior to the great earthquake of 1906, the area was mostly considered a residential neighborhood, but was rebuilt in the aftermath of the quake to become the cultural and shopping mecca it is today. In 2002, thanks to a $25 million renovation, Union Square was transformed into a beautiful piazza with the monument with the goddess Victory that was built in 1903 still towering over it. More on Union Square history here.
Go Shopping
There may be a lot of history in this area but it's a thoroughly modern part of the city that is known for great shopping. There are boutique stores, designer stores, antique stores and the Westfield Mall all located in this area. You can choose any street or alleyway in the Union Square neighborhood and find shopping galore.
Top choices include:
The Big Department Stores. Macy's, Neiman Marcus and Bloomingdales are the types of stores that fall into this category. You'll find them all here.
The Big Brands. For example, many people love shopping at H&M, Victoria's Secret and Urban Outfitters.
The Big Names. Designers like Ferragamo, Betsey Johnson and Armani have their stores near Union Square. One specific street to check out is pedestrian-only Maiden Lane where stores like Chanel and Yves Saint Laurent make their home.
Jewelry Stores. If you've ever wanted to go to Tiffany's then now is your opportunity. There are also many other jewelery stores in the neighborhood.
Antique Stores. These are interspersed all around Union Square and include 333 Peking Arts, a top choice in Chinatown antiques.
Home Décor Shopping. In addition to what can be found at the department stores, you'll find options in the neighborhood that include Baccarat, Villeroy & Boch, Crate & Barrel, Sur La Table and Gumps.
More detail on San Francisco shopping malls around the Bay Area
How to Get In and Out of Union Square
It is crowded in the Union Square area so if you can avoid using a car to get here then do so. If you do drive then you will want to find a garage to park in. The most popular choice is the parking garage directly underneath Union Square itself, which you can enter from the south side on Geary St. There are other choices, though. Beware that parking fees are high in this area.
If you're coming from SFO Airport or anywhere outside of the city then you should get to Union Square via BART. Get off at the Powell Street stop and you'll emerge just blocks south of Union Square. This is also how to best get out of the city.
Union Square is a hub for the city's buses so you can catch a bus to most other neighborhoods from here. For example, you can go a few blocks north of Union Square to get the 30 or 45 bus to North Beach and Chinatown. Or you could take the 38 Geary bus west from Union Square to visit Japantown. Check the MUNI schedule for specific bus route information.
If you're looking for a more tourist-style trek outside of the neighborhood then catch the cable car at Union Square and take it north up the hills to the Fisherman's Wharf or Hyde St. Pier areas of the city.
Find Some Food
All of this shopping is bound to make you hungry so you will want to know where to find great food in the Union Square area. It's not difficult. You can get everything from cheap take-away food to luxury dining in this area. Some top choices:
Budget Dining. Try the hole-in-the-wall restaurants near the cable car turnaround at Powell and Market for great quick food. Bangkok Noodles is a top choice for quick Thai food and Blondie's is a favorite for pizza slices.
Diner Food. A mid-priced range of food can best be found at the diner-style eateries that are available in this neighborhood, such as Lori's Diner or Betty Boop's Diner.
Luxury Dining. If you're looking for something more upscale try Kuleto's Italian Restaurant, Farallon's coastal cuisine or Morton's the Steakhouse.
Unique Eats. Have you ever gone to get sushi boats? Sushi Boat Restaurant on Geary is a good choice for you. For dessert try rice pudding at Leila Mediterranean restaurant.
These are just a few out of dozens of choices in the area so you can always look around and find something to suit your dining needs in Union Square.
Orient Yourself with a Walking Tour
This is one of the busiest areas of the city. You will want to walk everywhere in this neighborhood so it's a good idea to start with a walking tour to get oriented to the area. This is also a terrific way to see the amazing local architecture of this neighborhood. SF City Guides offers approximately twenty free local walking tours in this area. One that is highly recommended is the City Scapes and Public Spaces walking tour, which takes you through some of the rich history and great architecture of the Union Square neighborhood.
There is great shopping across many San Francisco neighborhoods-- check out our neighborhood shopping guide for the best spots.
Bars and Clubs
Union Square is home to a surprising number of bars and nightclubs for those people who are interested in grabbing a drink or going dancing. They tend towards the swankier side of the spectrum so dress accordingly. Top choices include:
Ruby Skye. A favorite among people who enjoy dancing to nationwide-recognized DJs.
Azul Lounge. This is a top spot for people who are seeking a high quality cocktail.
Gold Dust Lounge. This classic historic spot right off of Union Square has great ambience and better drinks.
Harry Denton's Starlight Lounge. This swanky spot describes itself as "1930's glamour with a certain modern swing." And it offers a terrific view from the 21st floor of the Sir Frances Drake Hotel.
A Night at the Theatre
There are numerous local theaters and comedy troupes in San Francisco and you can find a show happening just about every night of the year. Many of the venues for these shows are located around Union Square including ACT American Conservatory Theater, Curran Theater and Post Street Theater. At Union Square itself you will see a Bay Area TIX booth where you can find out about the current shows in the city and even get half price tickets to some of them!
Westfield Shopping Mall
Going to the Art Galleries
People who are interested in the art will be intrigued to know that there are many different galleries located in the Union Square area. They frequently have artist opening receptions where you can mingle with locals and check out the work. A terrific way to learn more about these galleries is to go during First Thursday Art Walk each month.
At the Square
All of these things are located just steps away from Union Square itself but don't forget that the square has things to offer as well. You can go here just to sit and enjoy lunch on a nice day. Many days there is something else to see or do here, though. Art sales frequently take place in the open air here. In the winter there is a holiday tree put up as well as a skating rink. During the summer there are sometimes nighttime outdoor movie screenings. Keep an eye on the happenings here for some usually-free entertainment during your stay.
Get a Union Square Hotel
The first thing that you should do is to book your Union Square hotel. You have so many different options to choose from that it may take you a little while to narrow down your options. Major top choices include:
Terrific boutique hotels. One example in this category is the all-green Orchard Garden Hotel. Another example is the art deco Monaco Hotel. But there are lots of other choices, too!
Name brand luxury hotels. A top-notch example in this category is the Westin St. Francis. Even if you aren't staying here you may stop into the bar for a drink. If you do, make sure to ride the elevators to the top floor for a terrific view of Union Square and the bay beyond. Other examples in this hotel category are the Grand Hyatt and the San Francisco Hilton.
Amazing local hotels. There are some hotels that are well known in this area and are favorites with visitors. A top choice is the Sir Francis Drake Hotel.
Check out all of our Union Square hotel recommendations here.
By Kathryn Vercillo, Copyright SFTravel LLC