Coit Tower San Francisco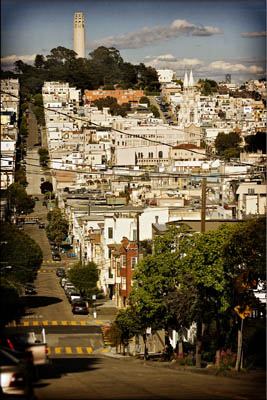 Coit Tower sits atop Telegraph Hill, looming over the eastern side of San Francisco with its almost regal presence. It serves as a directional marker for people lost in the mazes of city streets, but with its rich history and its excellent viewpoint, Coit Tower offers much more than just a way to find out where you are in the city.
Because of heavy traffic in the area, the best way to get up to Coit Tower is to walk through the energetic streets of North Beach to Filbert Street. The hill is one of the steepest short distances in San Francisco, but the street has steps to make the trek a little bit easier. For a break, pause halfway up and turn to the west to get a glimpse of the great view you will be seeing shortly. There are also many San Francisco limousine tours that can make your Coit Tower tour comfortable, while avoiding any parking hassles in this busy area. The San Francisco bus system offers a convenient trip up to Coit Tower via the #39 Coit bus from Pier 39 at Fisherman's Wharf

Coit Tower Hours
10am - 6pm May-October
10am-5pm November-April


Coit Tower Admission Prices

$8.00 Adults
$5.00 Seniors 65+
$5.00 Youth 12-17
$2.00 Children 5-11
Children under 4 are free.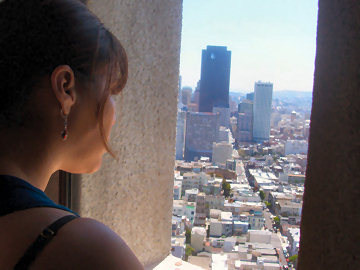 Looking over downtown from Coit Tower...
Once you have reached the base of Coit Tower, you will see that the structure affords a three hundred and sixty degree view of the city. Unobstructed by taller buildings as a result of a city ordinance, you can go up here to get a view of both the Golden Gate Bridge and the Bay Bridge with a picturesque look at the bay between them. Walking around to the other side of Coit Tower, you can see the peak of the Transamerica Building, the beauty of the cityscape and the curves of Lombard Street.
When you enter Coit Tower itself, you'll find yourself within a small circular building which holds a gift shop where you can purchase inexpensive tickets to take the elevator to the top of the tower. From there, the view of the city is even more magnificent. Upon exiting the elevator, you should take some time to explore the inside of the tower. This small circular building is where the true history of the area can be seen.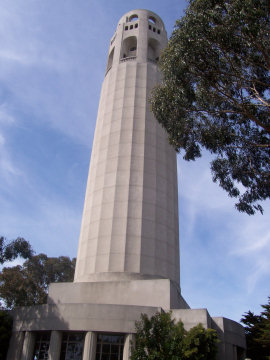 Coit Tower up close...
There are three major aspects of Coit Tower history that you will want to explore while you are here: the history of the tower's construction, the history of the art and architecture of the building and the story of the Wild Parrots of Telegraph Hill. Let's take a closer look at each of these historic facets:
History of Coit Tower
Coit Tower Construction and Lillie Hitchcock Coit
Coit Tower was constructed in 1933 at the request of Lillie Hitchcock Coit for whom the tower was named. Coit was one of those eccentric characters that dot the history of San Francisco and make it the interesting city that it has always been. She was a gender-bending rough-and-tumble type of woman who smoked cigars, gambled avidly and lived raucously. The fact that she came from money and married into more of it helped make her behavior more acceptable to others.
What Lille Hitchcock Coit was best known for in her day, however, was not her wild antics. Instead, it was her obsession with firefighting due surely to the fact that she herself was rescued from a severe fire when she was just a child. She grew up to become a volunteer firefighter who rode along with the firemen to all of the fires in town beginning at the age of 15 when she was dubbed the mascot for Knickerbocker Engine Co. No. 5. In those days, fires broke out frequently due to the materials used to construct buildings at the time. Lillian Hitchcock Coit was frequently found helping put out those fires.
Coit died in 1929 but she had money to her name. She used that money to commission Coit Tower, which was built in honor of the firefighters that she so adored. In addition to honoring the firefighers, Lillie Hitchcock Coit wanted the area to serve as a beautiful spot for viewing the city that she so loved.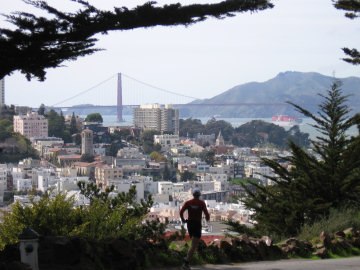 Sweeping Coit Tower views...
Art and Architecture of Coit Tower
The architecture of Coit Tower seems fairly simple (and is said to represent the nozzle of a fire hose although the rumor that this was intentional has been denied). When you enter the building, however, you will see a beautiful set of murals that explore and explain the history of the area. These murals were part of the Public Works of Art project that provided jobs to artists after the Great Depression. Many examples of public artwork from this era can be seen throughout San Francisco but the collection of murals at Coit Tower just might be the best sample of this work.
You can walk around the lower level of Coit Tower and view most of these murals at no charge. Looking at them, you will see many little slices of history. The many scenes throughout the building depict the lives of average people in the San Francisco Bay Area at this time. For example, you will see a poor family panning for gold while a richer family watches, a Labor March, farmers in fruit fields and every day tragedies like a car accident and a robbery.
In addition to the murals that you can see as a daily visitor, there is a set of murals in the stairway of the tower that are generally not available to be seen by the public. However, tours are given that describe the Coit Tower murals in more depth and some of these tours are allowed access to the stairway murals. We've built a free online guide to every mural in Coit Tower - click here for our free onlin guide to Coit Tower Murals.
Wild Parrots of Telegraph Hill
Coit Tower might be the highlight of Telegraph Hill but while you're there you won't want to miss out on another great piece of the hill's history. They're the wild parrots of Telegraph Hill. No one is quite sure how this flock of feral parrots ended up in the area but they've been there for years and you can count on them being there most days that you might visit. They hang out in the trees near Coit Tower. They've been the subject of a book as well as a documentary and have come to have their role in the local legends of the area. They have also played a bit part in local politics after a 2007 ban prohibiting feeding them in public was found to be highly controversial. The ban stands so don't plan to feed them if you see them but do take the time to look out for them as they are beautiful birds. Their loud voices and eccentric determination to thrive in a place where they don't necessarily belong might even remind you a little bit of Ms. Lillie Hitchcock Coit!
Upon leaving Coit Tower, you can walk down the eastern steps, which are covered in lush vegetation. The neighbors who live here have opted to create beautiful gardens in their backyards here for all to enjoy. On a quiet day, listen for the calls of those famous parrots. Consider a limousine service if you want to travel in style, comfort and avoid the many parking hassles in the area.