Victorian Painted Ladies - Historic Homes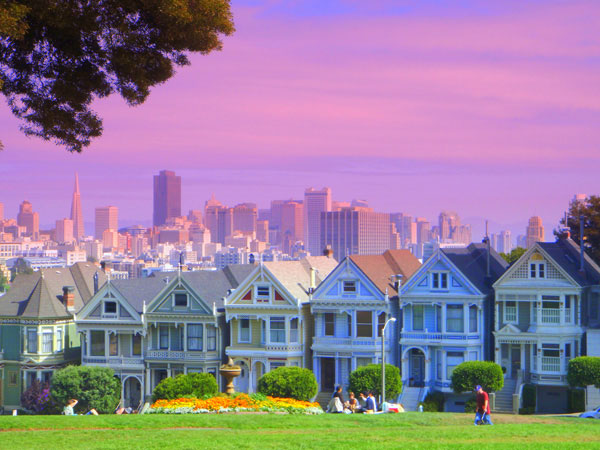 2011 Photo Contest Winner, Johnny Davis
There are numerous things that make San Francisco a beautiful city. The combination of the soft waters of the bay against the rocky waves of the Pacific Ocean would be one example. The amazing bridges leading into the city are another. But what strikes people most is the way that the unique architecture of San Francisco provides unusual beauty around every turn. From towering modern skyscrapers to tiny historic homes, San Francisco's buildings are gorgeous. One of the most famous sets of beautiful buildings in the city are the row of houses known as The Painted Ladies. Not only are they perfectly beautiful but these houses are rich with the history and the culture of the city, making a pass by them a must for any San Francisco visitor.
What are the Painted Ladies?
The term "painted ladies" refers to any set Victorian or Edwardian houses that use 3+ colors to show off the architectural details of their design. There are numerous sections of the city where you can see such houses. However, when you refer to "The Painted Ladies" in San Francisco most people assume that you are talking about the row of six Victorian homes located on Steiner Street in the Alamo Square neighborhood.
This particular row of colorful houses (also sometimes called The Six Sisters) was built between 1892 and 1896. This is significant because it was before the famous devastating earthquake and fire of 1906. Not many buildings remain in the city from before the quake so those that do are special. The fact that these are gorgeous, colorful Victorian homes just makes them all that much better!
These colorful houses have become famous as a symbol of San Francisco architecture. They have been featured in numerous television shows and movies that are set in San Francisco. One of the most common pop culture references for this set of houses is the old TV show Full House, which showed this row of houses in its opening sequence.
A Great Photo Spot
This famous section of Painted Ladies is sometimes also known as Postcard Row. This is due to the fact that the homes are so often featured in photos and postcards showing off the city. Their great colors and their position in the city really do make them a great photo spot. If you want to get one good touristy photo while you're in San Francisco then this is the place to go do it!
A Fun Tidbit for Lit Lovers
People who are interested in literature may find it fun to know that the famous author Alice Walker lived in one of these Painted Ladies for a time.
Alamo Square Park
The Painted Ladies are situated inside of a neighborhood known as Alamo Square. The key thing to visit in this neighborhood, other than The Painted Ladies themselves, is Alamo Square Park. This city park is four blocks in size but those four blocks sit on top of a hill, which means that you can see a great view of the city from the park. If there isn't any fog you can see both the Bay Bridge and the Golden Gate Bridge as well as the famous triangular-shaped Transamerica Pyramid all from this park. If you are traveling to San Francisco with your pet then you'll also be happy to know that there is an off-leash area for dogs to play in at this city park.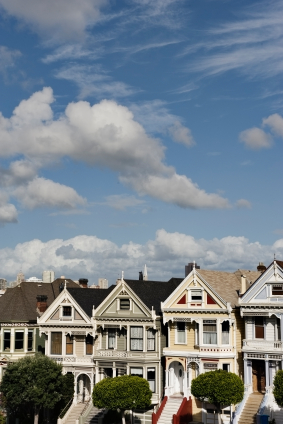 Other Great Architecture In The Area
The Painted Ladies are the most famous houses of this area but the neighborhood is filled with many other amazing houses. It is worth it to take a walk through the neighborhood and check them out. If you head over to McAllister Street you will find a great area for exploring some beautiful large mansions. They aren't all as colorful as the Victorians but their architecture is amazing. Also note that from here you can see San Francisco's City Hall (just look down Fulton Street, away from the park), which is a beautiful building in its own right!
Painted Ladies Walking Tour
Did you know that SF City Guides offers free walking tours throughout the city all throughout the year? One of the tours that they offer is the Landmark Victorians of Alamo Square. This walking tour takes you to see the exterior of numerous Painted Ladies including the famous row of them at Alamo Square. Check the tour's website to find out when the next free tour will be available.
How to Get There
The Painted Ladies can be found on Steiner Street, just across from the park on its Eastern side, between Hayes Street and Grove Street. (They are numbered 710-720.) The easiest way to get here is by bus. Depending on where you are in the city you can take bus number 5, 21, 22 or 24 to get here. If you are located near downtown San Francisco on Market Street then the 21 is your best bet. Of course, you can always hail a cab to get there as well.
A Warning About the Weather
Because you are located on top of a hill when you visit this part of San Francisco there is a good chance that it's going to be windy while you are there. It's always a smart idea to layer your clothing when you visit San Francisco and this is definitely a place where you will want to have a jacket with you!
Upcoming Events and Activities
If you are going to be spending time in Alamo Square to see The Painted Ladies then you may be wondering what else is happening in the neighborhood while you are there. Alamo Square Online, the blog for the Alamo Square Neighborhood Association, is a good place to check!
Stay in the Area
If you love the beauty of this neighborhood then you may want to stay here while you're in San Francisco. Some of the hotels that are close to The Painted Ladies include:
Don't forget your camera!!
By: Kathryn Vercillo, Copyright SFTRAVEL LLC