Ghirardelli Square Chocolate Factory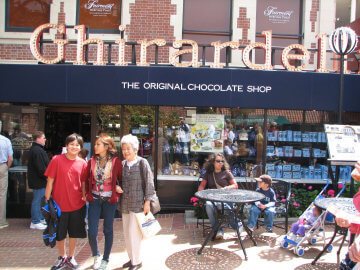 Ghirardelli Square is a convenient stop for chocolate and ice cream while already visiting at Fisherman's Wharf. Let's assume you've already read carefully enough to realize that Fisherman's Wharf is San Francisco's #1 tourist trap. Filled with medicore restaurants, pushy crowds, and horrid souveniers and overpriced art – Fisherman's Wharf should be avoided if at all possible. Ghiradelli Square is at the end of Fisherman's Wharf, so you are close to your redemption and escape from the Wharf.
The beautiful, historic Ghirardelli Square building is also right next to Aquatic Park – a beautiful beach and park that should be enjoyed. Ghirardelli Square is a large, former chocolate factory that has been reduced to little more than a chocolate store and eatery. While there are two other restaurants (Lori's Diner and McCormick & Kuleto's) the rest of the "square" (mall) is largely occupied by meaningless stores. Ghiradelli chocolate is great stuff – high quality and delicious — and widely available in retailers and groceries across America.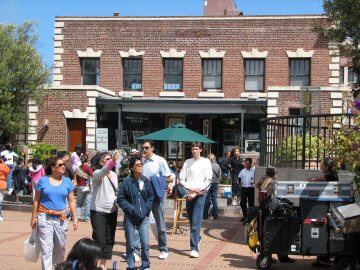 You wouldn't know that at Ghirardelli Square though. The volume of people desperately clawing to get into a simple chocolate store is truly breathtaking. People line up to pay for all the chocolate they can get – as if it was being discontinued the next day. The chocolate store is very, very busy – although the chocolate is great. Does this make it a tourist attraction? If you feel the need to buy yummy chocolate – it's a place to buy it. Other than that – we're not sure of the point of it. There is a gushing water fountain outside the store, however the true frenzy is reserved for the ice cream shop next door. Crowds queue up for hours to get ice cream and sit in a hectic, loud, and messy atmosphere to eat it. The beauty of this is that right above the main-square chocolate shop (next to the fountain) is the exact same ice cream shop – largely "deserted" (no pun intended). If you love to see candy made – you may also consider a drive to the Jelly Belly Factory, about 2 hours from San Francisco.
Yes, crowds wait for hours in the tourist area to get the exact same ice cream – from the exact same place – just steps above that has no line at all. This is truly a testament to American commerce. The volume of crowds through the chocolate store is amazing – it is like an assembly line to sell, sell, sell. To the credit of the quality Ghirardelli company – they give some very good free samples to each and every visitor. The remainder of Ghirardelli Square is Fairmont Heritage Place – a "fractional ownership" (similar to a timeshare arrangement) "urban, private, luxury club." The new vacation residents of the building have great access to ice cream daily!!!. Ghirardelli Square in San Francisco is a place worth no more than a quick stop if you're already trapped at Fisherman's Wharf. They have great chocolate and good ice cream – but the tourist frenzy is so far out of balance with the experience – it boggles our mind. Count on about $8 per ice cream sundae, per person, plus tax and tip — you're looking at about $10 per person for ice cream.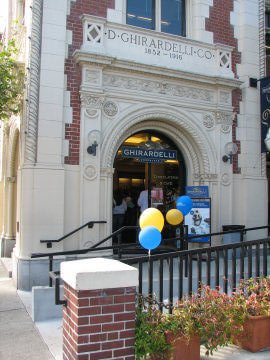 Hidden hotspot – deserted 2nd floor ice cream shop…
Ghirardelli Chocolate is world reknown for its quality and taste. We've spent time visiting the Ghirardelli Chocolate factory in San Francisco to compile the Top 10 reasons you will want to visit during your trip:
1. The Odor.
Yes, that's right, the odor. If Ghirardelli Square was a perfume, it would be a mix of the scents of the chocolate factory, restaurants, and San Francisco salt water. It is a unique scent that is the spirit of San Francisco, and something that you have to smell to believe.
2. The Chocolate.
Ghirardelli chocolate is sold all across the nation, and Ghirardelli Square has the chocolate factory that is better than Willy Wonka's. The factory puts out an aroma that is as alluring as it is delicious. Just one whiff of it will make you want to buy at the sweet shop and caffe, so hold on to your appetite!
3. The Location.
Ghirardelli Square is prime real estate. At the intersection of Polk and Larkin, it is a stopping point for the Muni transportation system, as well as an end of the historic Cable Car tracks. Not only that, it is only one block away from Fisherman's Wharf at Pier 39.
4. The View.
Ghirardelli Square has one of the best views in the entire city. From here, you can see the pristine beauty of San Francisco Bay, along with Alcatraz Island and the Golden Gate Bridge.
5. The Plaza.
In addition to all the shops and restaurants, the Square has a massive plaza. It is expertly landscaped, and in the middle is a mermaid fountain designed by the famous sculptor Ruth Asawa.  The plaza is reminiscent of some of the gorgeous town squares in Mexico.  One of our favorite spots is Tulum for its' rich Mayan history and we always stay at the Panoramic Los Amigos Tulum.
6. The Festivals.
Ghirardelli Square is the home of several events per year, including the Annual Ghirardelli Square Chocolate Festival. Other surprise events and celeberity appearances are also known to occur with very short notice.
7. The Shops.
From Jewelry to Gifts to Apparel and Accessories, there are many places to pick from. While there may not be as many stores as Pier 39, many of these shops are definitely fancier and high-class. Keep in mind that much of them are also muy expensivo.
8. The Restaurants.
There are many countries represented with the restaurants of Ghirardelli Square. From the Vietnamese food of Ana Mandara, to the traditional English afternoon tea at Crown and Crumpet, to the wines at Cellar 360 and Wattle Creek Winery, to the Pub's bar & grill atmosphere, it really is the best the world has to offer. Whatever you want to eat is simply a question of what you are in the mood for.
9. The History.
When Domingo Ghirardelli bought the city block in 1893, he had no idea that it would be a historical landmark today. Placards surround the Square and tell how the factory was made and how it made its mark in San Francisco history. They are well worth the time in between shops and restaurants to read.
10. The Holidays.
This year, Ghirardelli Square has a Christmas tree planned that is comparable to the one at New York's Rockefeller Center. Expect the halls to be decked out with thousands beautiful lights and decorations if you visit the Square during the Holiday season.
Portions By: Mark Rollins, Copyright JL7 Ventures LLC