San Francisco SFO Airport Shuttles Guide
Checking out the airport shuttles at SFO airport
Once you arrive at San Francisco Airport, you've got to get to your hotel in a convenient way that doesn't break the bank. Shared vans are a great value whether you're heading to downtown San Francisco hotels; SF residential neighborhoods; the East Bay; the South Bay; or even far outlying suburbs. The typical price hovers around the $17 mark to downtown SF, and the vans usually make three other stops– in addition to your destination. Airport van pickups are on the 2nd level of the airport, above the baggage claim– be cautious of the more aggressive selling drivers. Check our detailed reviews below for the best possible service and the exact costs.
Depending if you want to cut your cost and spend less, or have a larger group — there are two other alternatives you should consider. For a group of four or more people, the cost of a shared van ride is almost exactly equal to the cost of a towncar or limousine. Towncars provide better service, with no stops before you reach your destination. If you are on a very tight budget, Bay Area Rapid Transit (BART) offers subway trains that go from the airport to downtown San Francisco. You'll need to carry your bag a bit, but the cost for BART trains is typically about half of the cost of a shared van.




Airport Shuttle Vans:
You can find every shared ride service at San Francisco Airport (SFO) in our detailed pricing guide below. In general, the prices don't differ greatly between services. There are many van services that specialize in outlying areas such as the East Bay (Walnut Creek) and the South Bay (Palo Alto and San Jose) that you can find in the list below.
Palo Alto        San Francisco      East Bay       San Jose SJC
SFO Airport Shuttle
Prices and Services

SuperShuttle 800-BLUE VA
SuperShuttle is the largest franchise for shared door-to-door service – SFO airport to San Francisco, San Mateo, and Santa Clara counties. OAK / SJC pre-reserved only. $17 for 1st riderto San Francisco destinations — $10 each additional rider.Some complaints received regarding poor service at Oakland airport.
BayPorter Express       

415-467-1800

BayPorter Express serves most Bay Area airports with private rides for $70 (up to 7 riders for SFO-SF). Oakland area cities priced ~$95 from SFO.

Lorrie's Airport Shuttle (since 1977) 415-334-9000
Lorrie's Airport Shuttle is the low price leader: San Francisco hotels and residences to San Francisco (SFO) airport for $15 per person.

Marin Airporter415-461-4222
The Marin Airporter offers buses from Marin County to SFO every 30-60 minutes. $22 per rider. Central pickups in Marin – not door-to-door.
Davis Airporter – UC Davis / Davis, CA Specialists

530-756-6715

The Davis Airporter specializes in shuttles from University of California (UC) Davis to San Francisco ($85 first / $25 2nd) and Sacramento ($20 first / $10 2nd) airports. Poor phone service.

SuperShuttle feedback: Editor's note: If you have more than two people (like 3-4), it almost always is more efficient and cost effective to use a taxi. Service is also often more limited in the late night hours versus during the day. "…I took Super Shuttle from SFO to East Bay. There were two other people who were in the van who had made reservations. Despite having three of us, the driver was told by his manager to "wait for more people to show up." We waited 30 min to snag two more customers (who had no reservations–Super Shuttle did not know if anyone was going to show up or not, and we were just waiting indefinitely going around the terminals). Needless to say, with 5 people, the ride took much longer with the drop-offs. I got on the van around 12:15 (midnight) and arrived at Berkeley after 2 am. They charged $41 and I'm told you can get more decent shuttles for less or a taxi for $55. Given how long it took, I would prefer a taxi next time. I sent in a complaint asking for a refund and the only thing they addressed was that if I want a faster ride, I should book a private shuttle (which they claim to have). I wod book something else…"

American Airporter Shuttle

415-202-0733

Price: $17 first person / $10 2nd or more person

Bay Shuttle     

415-564-3400

$17 first person / $17 2nd or more person. Poor phone service – not recommended.
Avoid: Multiple complaints found from poor phone customer service; closed on Sundays; and missed / mixed-up destination issues.
Butler Limousine 

866-789-0340

Private car service to OAK, SFO, SJC.
Black Tie Airport Express   

800-820-3028

Private cars only. $157 for up to 4 riders.
Door-to-Door Airport Express   

415-775-5121

$18 per person to SF residence. Phone service is poor quality.
East Bay Connection – Contra Costa County specialist

925-609-1920

Specializes in Contra Costa County (all cities east of Caldecott tunnel) to SFO $46 first person and $15 each additional rider
Evans Airport Service – Napa / Vallejo specialist

707-255-1559

$29 per person – parking for $4 per day. Children 12 and under are $20. Scheduled service every 2-3 hours. Serves both SFO and OAK airports.
San Francisco City Shuttle   

415-822-2648

To San Francisco residences for $17. Guarantees no more than three stops on the way to the airport.
Pacific Airport Shuttle   

415-681-6318

Small, independent service for $17. Medicore phone service.
Sonoma Airporter   

707-938-4246

Sonoma, Glen Ellen, Kenwood and Oakmont to SFO airport with door-to-door service for $29.
Sonoma County Airport Express 

800-327-2024

Sonoma county to SFO and OAK. Scheduled bus service every ~90 minutes. $32 per person. Parking available at Petaluma fairgrounds fpr $3/day or $15/week.
South and East Bay Shuttle (see complaints below)

408-225-4444

Serves limited area within East Bay and South Bay: Hayward, Fremont, Union City. Example fare: $103 to Walnut Creek
South and East Bay Shuttle Reviews: "…I made a reservation with South and East Bay Airport Shuttle for an early morning pickup from Stanford University to SFO at 3:45am — a time when traffic is non-existent. After the van did not arrive by 4:15am (30 minutes after the commitment), we called to inquire if it was coming. The office told us the van is "around the corner and will be there anytime soon". We waited until 4:30am and again called the office. Again, the office promised that the van is "around the corner and will be there anytime". I could not wait anymore to risk missing my flight and called for a taxi. When the cab arrived at around 4:40am, the shuttle still had not arrived. The delays caused us to almost miss our flight to Japan for a honeymoon, plus $90 additional for the cab ride. …"
VIP Airport Shuttle

408-885-1800

South Bay Only – $49 to Downtown San Jose — $8 each additional rider.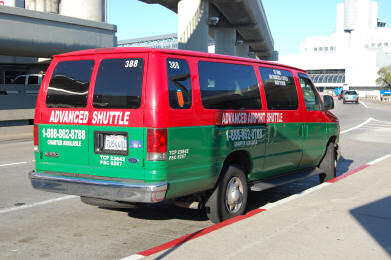 San Francisco Airport – Advanced Shuttle
Detailed Boarding Directions:
San Francisco International Airport Boarding Instructions: When you have your baggage and are ready to head to your van at San Francisco International Airport, go to the Courtyards listed below:
Terminal #1 (South Terminal: US Air, Continental, Alaska, Northwest, Delta) Go to Courtyard #1 (same area as Charter Buses Boarding). From Baggage Level (Level 1) go out from the baggage claim doors and turn LEFT, follow the curb toward the beginning of the building until you reach a small parking area with the sign indicating "Courtyard #1".
Terminal #3 (North Terminal: American, United Airlines) Head over to Courtyard #4 (same area as Charter Buses Boarding). From Baggage Level (Level 1), go out from the baggage claim doors and turn RIGHT, follow the curb toward to the end of the building until you reach a small parking area with the sign indicating "Courtyard #4".
Terminal #4 (International Terminal: All International Airlines) Walk to Courtyard #G (same area as Charter Buses Boarding). From Custom or Baggage Level (Level 2), go out from the Custom doors and turn RIGHT, take escalator or elevator down to Level 1, look for a sign indicating "Bus Courtyard #G".
Oakland Airport Transfers – You can transfer easily between SFO and Oakland Airport transportation with a variety of efficient services depending on your budget.
Continue to: Top Three SFO Airport Shuttle Issues and more…